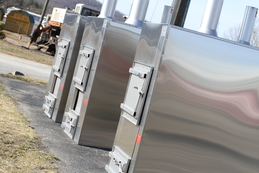 A safe, cost effective and environmentally responsible home heating alternative.
Time Is Running Out!
It is expected that by April or May of 2015 the EPA's New Source Performance Standards (NSPS) ruling will go into effect. Emission limits will be introduced that would prohibit the retail sale of the Hardy furnace along with all other conventional up-draft outdoor furnaces in the United States. Hardy Furnaces purchased prior to April or May 2015 will not be affected by this ruling.
If you have a family member, friend or neighbor who has been considering purchasing a Hardy outdoor wood furnace they should know the Hardy furnace will only be available to purchase for a limited time. Don't miss this opportunity.